Address:
15608 Arbela Dr.
La Habra Heights, CA 90631
Hours:
Thursday, August 29, 2013, 12 noon – 4:00 pm
Friday & Saturday, August 30-31, 9:00 am – 3:00 pm
DIRECTIONS:  Online and GPS maps will often give incorrect directions to this address, so beware!  The easiest way is to go north from Whittier Blvd onto Santa Gertrudes Ave; turn left onto Arbela Dr.  The house is up the first driveway on the right. Look for the four mailboxes.
WARNING!  This unique property sits at the end of a long, steep driveway that is shared with other homes.  Unfortunately, use of the driveway is not permitted except by driveway residents with ID and for pickup of purchases.   Plan to park on Arbela or nearby streets and be prepared to walk up a steep incline.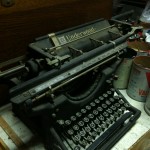 This sale will start on Thursday at noon.  Please, no early shoppers.
Lots of interesting treasures at this unique estate sale:
Vintage Ford milk truck , not running
Vintage car parts
Tools, vintage and newer
Craftsman tool chest
Lots and lots of tools (property owner was an engineer, a vintage car aficionado and an all around tinkerer, so some tools are specialized), yard equipment, etc
Vintage dolls
Large bell collection, including

Lladro

,

Goebel

, and more
Vintage student desk
Vintage

midcentury

curved sofa
Wing chairs
Oak dining table and chairs
Vintage cameras, projectors, recording devices
Remote control racing cars:

Lancia

Stratos

, La

Trax

Sewing machine
Vintage typewriters
Vintage/ Antique dressers
Vintage wedding dress, etc
Vintage glassware
Plumping parts (ask to see)
LOTS of scrap metal
Washer/Dryer
Refrigerator
Much more!
More info to come as we get it.